Is what my darling Jomp's utters as I try my hand at yet another hobby!
In my time with him (7 years) I've tried cross-stitch, designing blinkies, fish keeping, going to the gym (!), crochet, home-baking, blah blah blah! And over and over again, he's seen me try something, realise I'm no good at it and then resolutely put it in a corner to be discovered and binned years later.
The same with knitting....or so he thought! 2and a half years later and my skills are going from strength to strength! I have finally discovered something that I'm good at. I can't see a time when I will stop knitting. Perhaps when I'm old and grey (well, greyer than those awful few that keep cropping up now!) and my eyes are failing. But until then, never! I LOVE KNITTING!!
So now Jomps has forgotten all those failed hobbies, I thought I'd try a new one! Stitch markers! I've been looking at the efforts of
Liz
and
ViKnits
and decided to try my hand at a few myself. I only had a few beads in my button tin: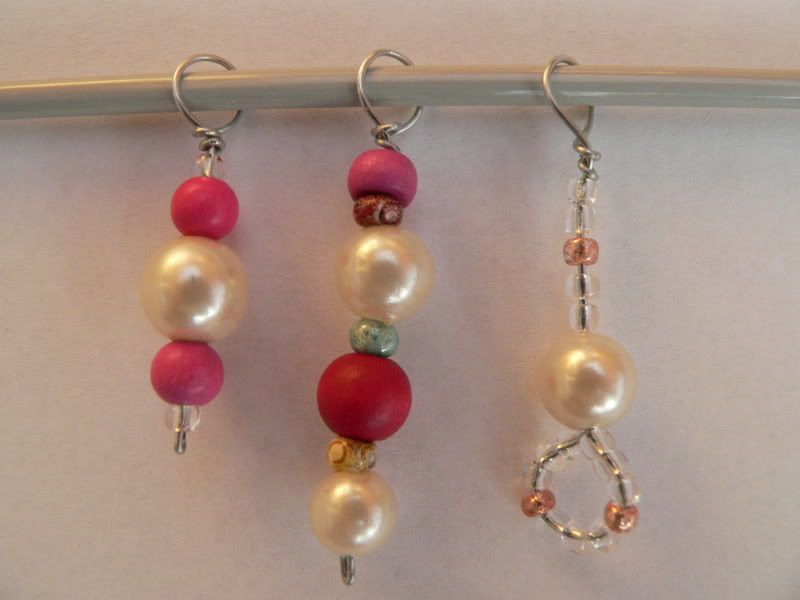 I really like the two with pink beads but I hate the pearly one! Nevermind, I thought! I'll try again, this time with Fimo, grown-up plasticine that goes hard once it's baked. That wasn't as easy as it looked either, will post pics of those when the light is better, along with pics of the back of my CPH and most of the left front.
Anyway, the moral of the story is: "If at first you don't succeed, try and try and try again (with a new hobby, then another and another!)