Hmmmm, I've not enjoyed today.
Even though there are a number of reasons to be cheerful:
1) I only work a half day on Wednesday so I finished at 12.30pm.
2) Beth does a full day at Nursery which means that:
3) I get a whole afternoon to myself!
4) I managed to do a few more rows of MS3. My new Addi Lace circulars arrived yesterday so I tried them out and I love them! They are lovely and pointy (much like my Boyes) but they have a bit of drag to them so the yarn doesn't constantly slip off.
5) I finished the raglan sweater: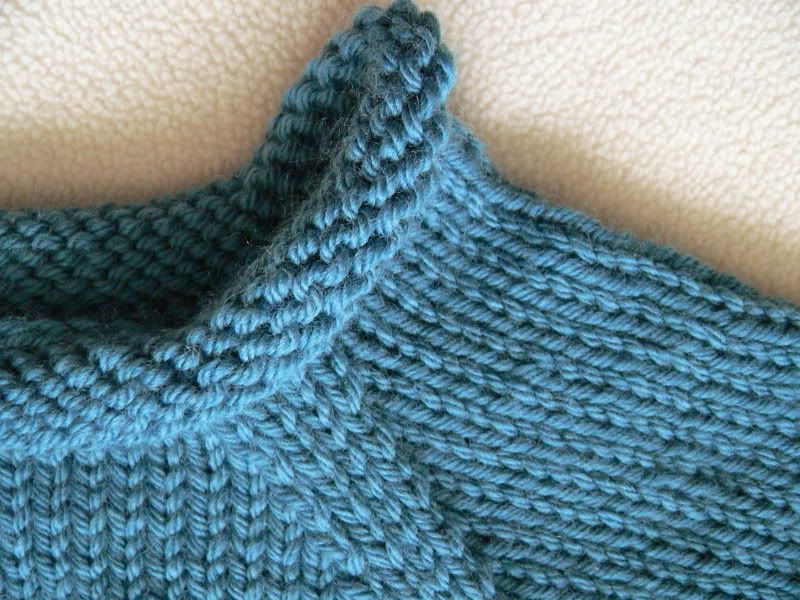 Pattern: Raglan Sweater from The Baby Knits Book by Debbie Bliss
Yarn: Debbie Bliss cashmerino Aran. Colouway: Kingfisher
Size: 3-6 months
Knit for: Sam (Firstborn of my best mate Sara)
Comments: The third time I've knit this pattern which meant that I was brave enough to try my first ever modification of a pattern! On both previous sweaters, I hated the neckline which jst seemed to end leaving a gaping great hole for the head to go through. So this time, I sewed up all the seams then picked up stitches round the neck. I knit 7 rounds then cast off so that the neck had a nice rolled edge to match the cuffs and hem. I'm pleased with the effect! And pleased that I was able to mod a pattern with no help! Surely that's a sign of my knitterly progress?
So why haven't I enjoyed today?
Because I took our car into the garage this morning as it's been misfiring. The prognosis is poor to bleak as the head gasket has gone! Even I, with my very limited car maintenance knowledge, know that this is fatal. The garage gave us a guestimate of £800 to repair!! Money that we just don't have! This news has wrecked my whole day but I'm sure I'll feel better once I've slept on it.
Hope so anyway.