Buy one, get one free. Or in Gracie's case, knit one, get one free!


Back on
Halloween
, I showed you some Trekking XXL that Jomp's girls, Jess & Gracie had dyed. Jess is now at the toe of her first sock and doing really well...I'm thrilled for her!
Gracie, being only 10, wanted to do her own socks but as she has yet to finish her first scarf in chunky wool, I said I'd do them for her:
Pattern:
Knee Socks
from
Streets & YO's

Yarn: Gracie's Hand-dyed Trekking XXL & oddments of Opal Uni 4ply. Colourway: Purple, pink
Needles: 2.5mm Addi Turbo 12" circular
Size: Size 6ish uk + made to measure around Gracie's calf
Knit for: Gracie
Comments: My first knee socks and I love them. I adapted the pattern slightly as Gracie is shorter than the average adult women so made the calf increases slightly closer than than the pattern calls for. That said, the socks are just a little shorter than I wanted! I also used the sewn bind off which take's forever but my normal cast off in rib is soooo tight!
I had quite a bit of yarn left and wanted to treat her as she's having a bit of a hard time at the mo, so here is a little sock pouch that she'll fill with trinkets or shells or whatever she's into this weekend!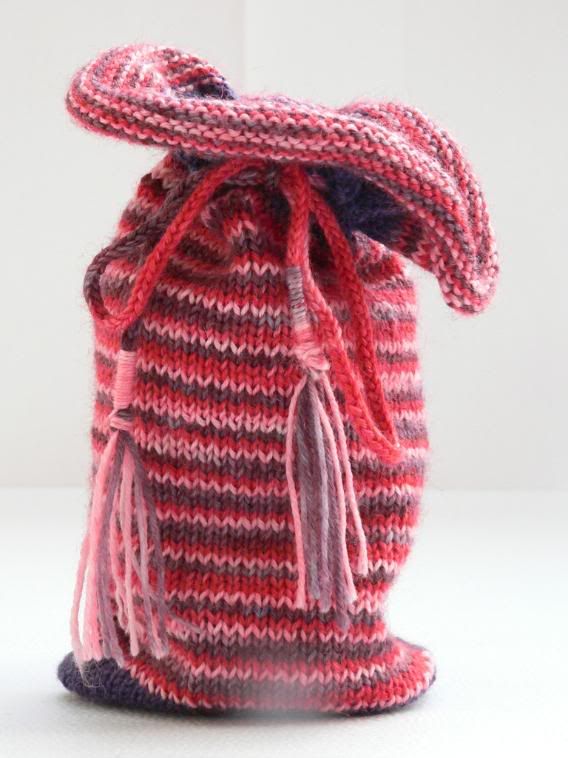 Pattern: Soft Drawstring pouch by Joelle Hoverson from the book Last Minute Knitted Gifts Yarn: As Above!
Needles: 2.5mm Addi Turbo 12" Circular
Size: One size
Knit for: Gracie's socks!
Comments: I love this little bag! What else is there to say?
She'll be arriving in half an hour for the long weekend and no doubt I'll have to remind her to take them off so they can be washed!
All that remains now is for me to wish you all a very Happy Easter! Hope the Easter Bunny is kind to you!