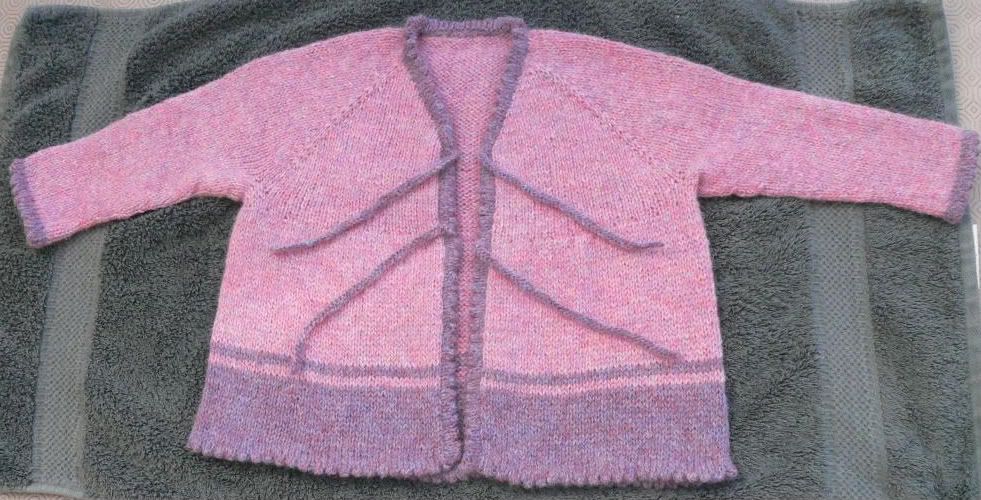 Pattern:
Daisy Cardigan
by
Marie Grace
Yarn: New Lanark MillsDK yarn. Colourway: Blossom & Clematis
Needles: 3.75mm Boye's Interchangeable 24" circular
Size: Size 2
Knit for: Beth
Comments: My first top down raglan. I really enjoyed knitting this all in one piece even when all the increases were done and each row was 200 stitches!
I substituted the picot hem for the picot bind off and find it works really well. It also stops the stocking stitch rolling. I also added two ties instead of one and cast on 50 st for each tie instead of the 40 as stated in the pattern.
I'm supposed to embroider daisies around the hem but I think I'll leave it as it is...don't want anything too fussy as I'm hoping Pickle will get lots of wear out of it this spring.
The fit isn't great...quite big over the shoulders and across the front but nevermind.
This is my first project using the
New Lanark
yarns and definately won't be my last. This cardi cost me £3 to make, you couldn't buy acrylic that cheap! The yarn was a bit scratchy but has softened considerably with washing and the drape is lovely now it's blocked. I urge you all to try it!