Hello my friends. Sorry I've been MIA for a while. I've no excuses really. Just been feeling a bit down, low, blue. Call it what you will. I think I need some sun.....it's brighter here this afternoon and already I feel a bit better. Roll on the summer!


I have been knitting in my absence. It takes a lot to keep my needles and I apart these days!
So I have one FO and two WIP's to show you!
Pattern:
Monkey
by Cookie A.
Yarn: Posh Yarn Helena. Colourway: Maidenly
Needles: 2.5mm 12" Addi Turbo circular
Size: 4UK
Knit for: me
Comments: I must be the last person in the entire knitting world to knit Monkeys. Why did I wait? I love these socks, I love the yarn and I love the pattern!
BUT! My beautiful socks are too flaming big!!! I've yet to wash and block them so I'm hoping they shrink a bit! If I were to knit them again I think I'd leave out one pattern repeat. If they don't shrink I may have to gift them but I'm not sure I know anyone with little wide feet!!
I've also decided never to knit myself heel flap socks again. They just don't seem to fit like short row heels do. And, while we're on the subject of socks fitting...what is a high instep?? Lots of people mention it but I just don't understand what part of the foot they're talking about!
Once the monkeys were cast off I fully intended to get going on my CPH once more but alas...I was bereft without a pair of socks on the go so I cast on some socks for Tom, Jon's 14 year old: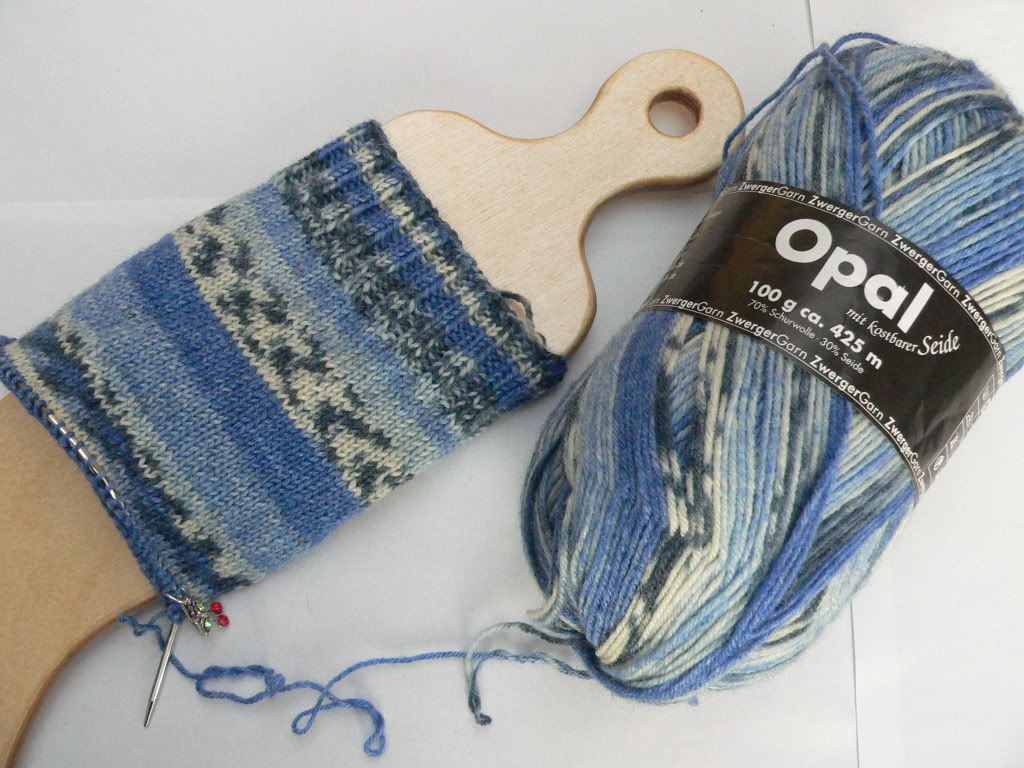 This yarn is Opal Silk that Cheryl, my SP11 spoiler, sent me for Christmas. The yarn is so soft and Tom choose this for his socks even though the blues are pretty bright in the ball. However, it knits up into lovely denimey (is that a word?) colours so I think he'll be pleased with them.
So that's the first WIP. Onto more exciting things now!
I have been stalking all the projects on Ravelry for
Shelley Kang
's fabulous
Sock Yarn Blanket
. And I could resist it calling to me no longer! I figured that I need to get rid of all these little balls of leftover sock yarn around the house and it gives me an excuse to knit more socks thereby using up more stash! See.... it's a win-win project!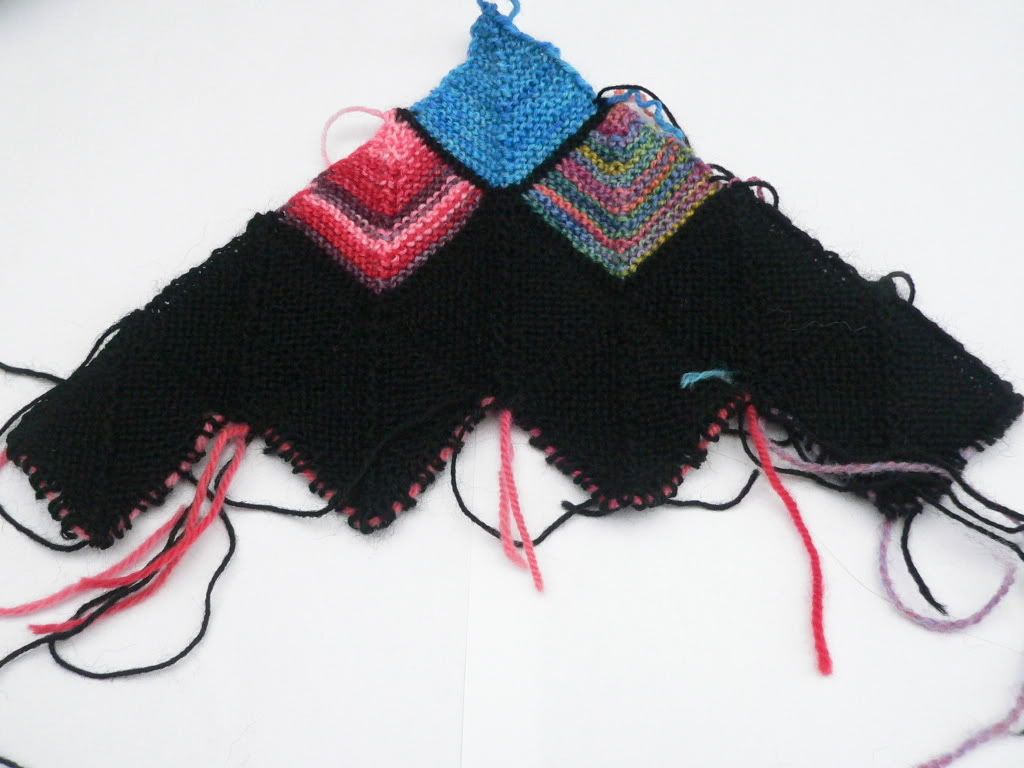 That said...I don't have that many little balls of sock yarn around. Certainly not enough for a blankie! So if any of you want to get rid of yours please drop me a line! I'm happy to pay and will accept anything so long as it contains some wool and is 4 ply! Please?? Pretty please??