I know, I know. It's been 3 months since my last confession... I've decided that it makes me a real blogger. Many blogs that I read have summer holidays, long breaks without posts, and I still read them. It doesn't put me off so I'm hoping the same can be said for anyone still remaining out there in blogland that bothers to read my little blog.
So, go on, make a brew and I'll fill you in on the news in Woolly Tales.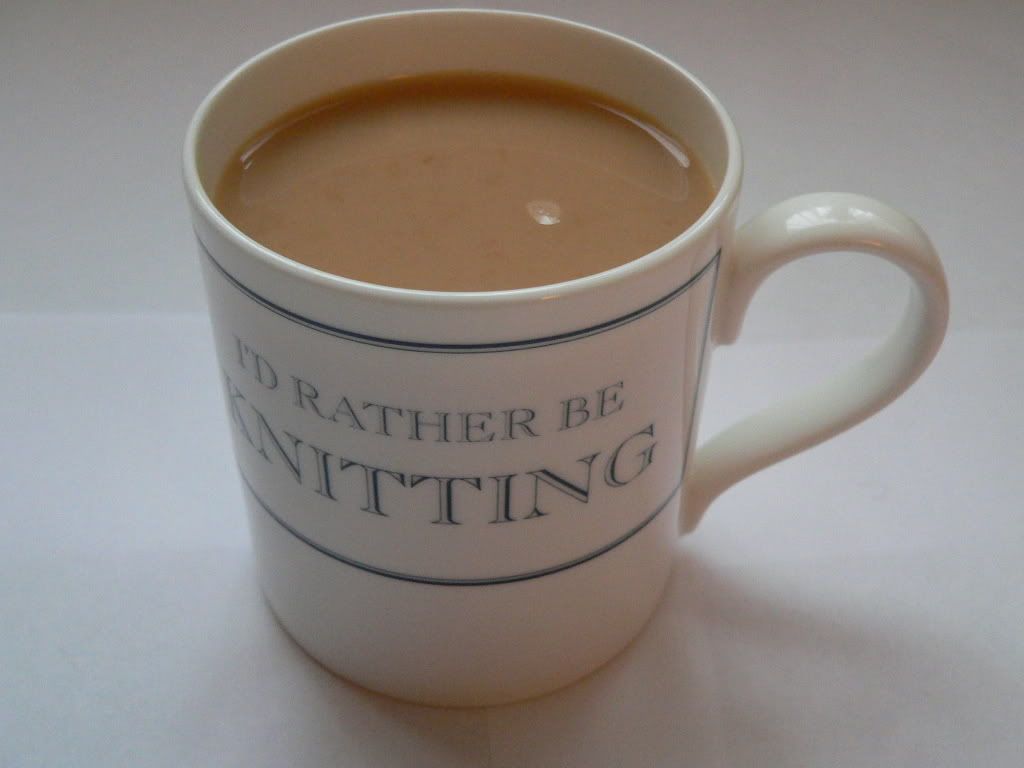 The kids are back to school and the summer has been a wash out. We had Jomp's kids here for half the holidays so we were busy on days out, picnics and general family stuff. My beloved Pickle continues to grow like a weed. Her vocabulary increases by the day along with her understanding that she can get anyone to do anything she asks if she just flutters her eyelashes at them! Potty training is a laugh...NOT! Still, she'll get there in the end.
Jomps and I have just celebrated our 4th Wedding anniversary and decided, as we do each year, that we'll try for another year. I thank my lucky stars to have him in my life, and I can only hope and dream that we'll be trying for another year together in 40 years time.
I guess this is as good a point as any to tell you that we have another mini Pickle on the way, due March 3rd 2009. We are both thrilled, excited and nervous about how we will cope with another little one in the house but any worries we had faded the minute we saw this little person waving at us: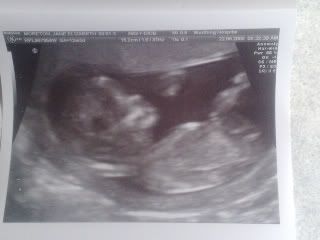 I have felt terrible almost from the word go and precious little of anything, knitting or otherwise, got done for quite some time. Thankfully I'm now 15 weeks pregnant and feeling much better so on with the show!
Talking of shows.... we spent our Anniversary weekend in London. We saw
Joseph
starring Lee Mead which was just mindblowing. It was such a colourful show, so much to look at on stage and very funny. I really recommend it.
Then on saturday, another show...
I Knit day 2008
! I booked the tickets (yes, Jomps came with me, bless him) months ago and couldn't wait! It was a great day and I was thrilled to be in the company of so many knitters, everywhere you looked there were people knitting. I was very restrained: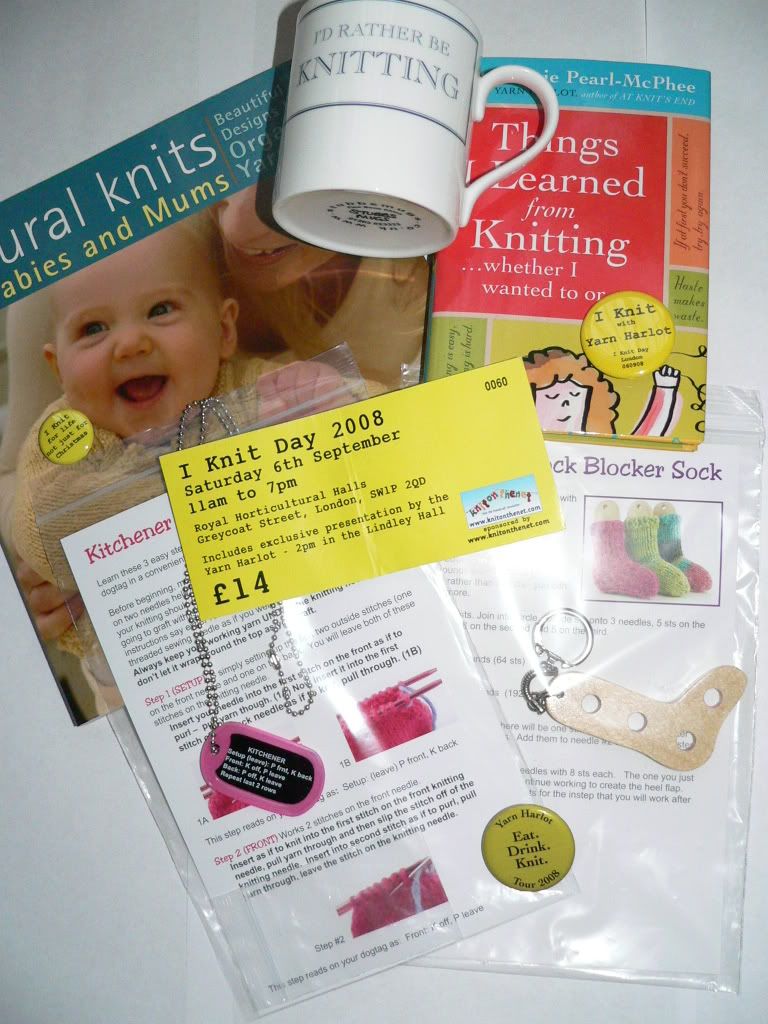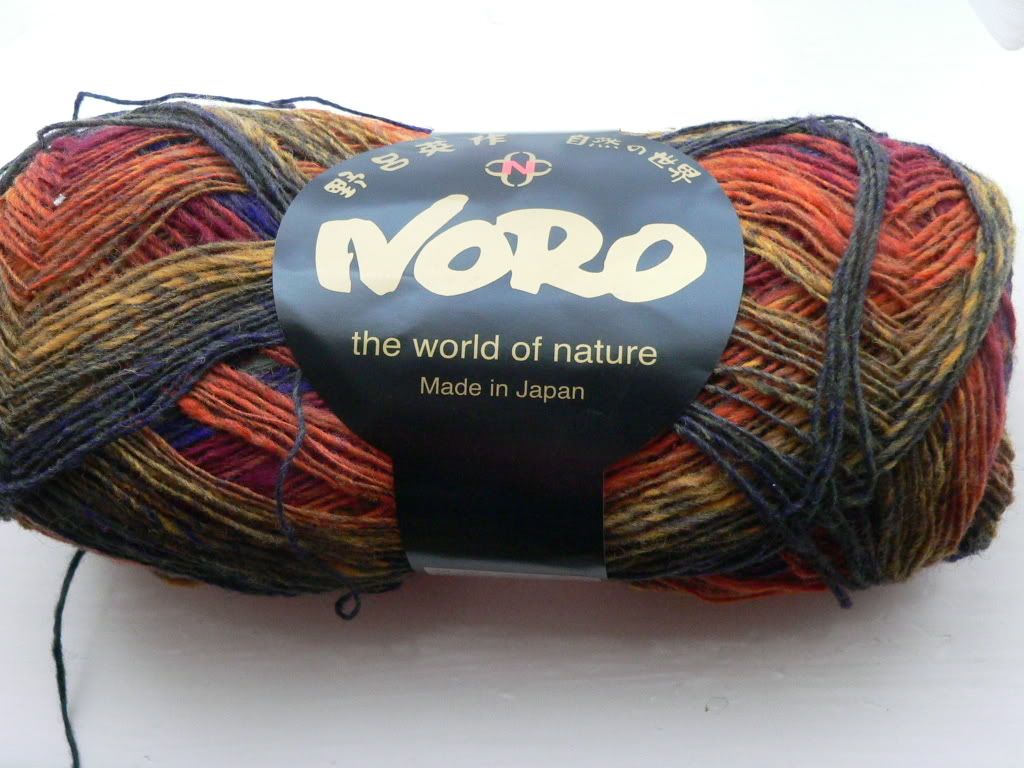 Yes, only ball of yarn..Noro Kureyon Sock. The new Yarn Harlot book, natural Knits for Babies & Mums, a tiny sock blocker, the kitchener dog tag (I always have to stop knitting and look up the
Knitty
article) and a new mug.
The talk by Stephanie Pearl-McPhee was so funny. I'm not someone who laughs out loud at the cinema or the tv but she had me in stitches! I had to put my knitting down in the end or I'd have made a terrible mistake. It was such a fantastic atmosphere, everyone there for the same reason, mostly with their knitting in hand, listening to someone talk about the health benefits of knitting and telling us all how we are like Buddhist monks! It was the best 90 minutes I've spent in ages.
I was very lucky to be about 10th in the queue for the booksigning
and was a bit stage struck but Stephanie made everyone feel at ease and had something personal and genuine to say to everybody (even those 3 hours back in the queue!). Jomps made her laugh and I even made it on to the Yarn Harlot's
blog
, scroll down to the pic of Jenny holding a picture of her daughter and baby...well that's me to the right in a LOVE(1) t-shirt talking to the better half of Jomps! Not a great picture but I don't care!
So, there you have it... all the important news. I have of course, done some knitting but I'll leave that for another post!
I'm pleased to be back.... I've missed you all. x