The blanket is growing slowly, will post a pic when I've got to 50 squares!
Of course, now that I've cast on for the Apres Surf Hoodie, the blankie is going even more slowly! I'm really enjoying this knit so far: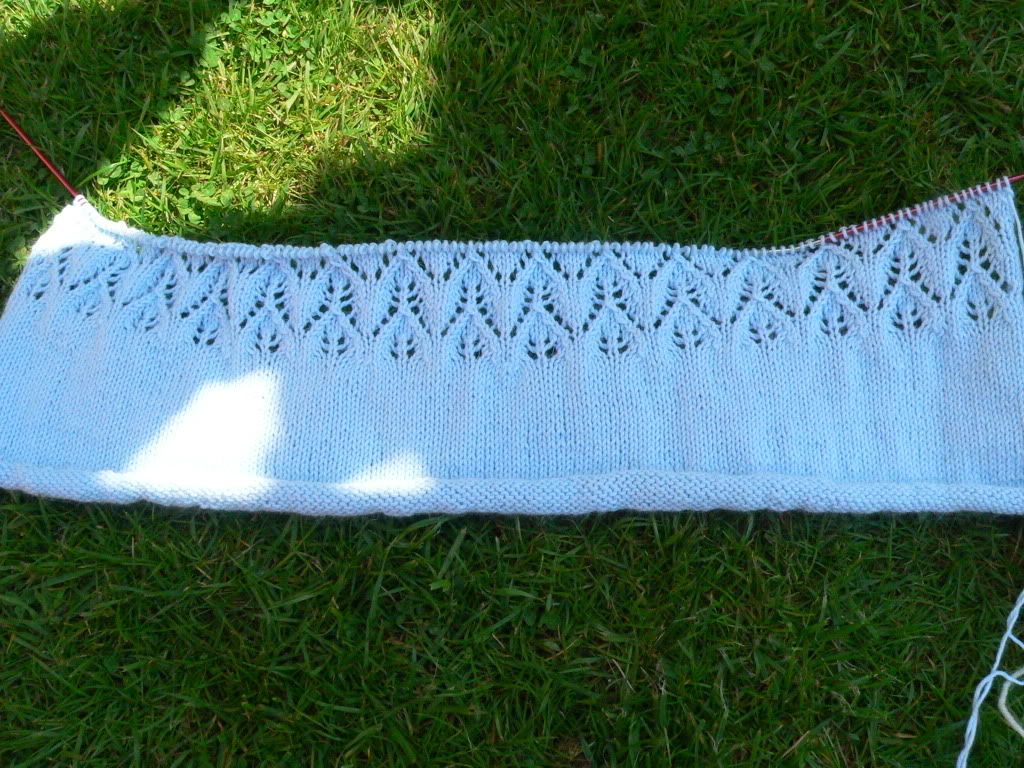 It's going to be a lovely hoodie, so feminine and pretty. Really not my usual style but it will be nice to wear something light & airy on summer evenings. The RYC Cashcotton is yummy, very soft, especially surprising considering the cotton content. And I love the colour, such a pretty blue.
You would think that I would be knitting like fury with such lovely projects on the go, wouldn't you? Well I would but things keep distracting me! I ordered a copy of Elizabeth Zimmerman's
'Knitters Alamanac'
which is keeping me amused. I've never read any of her books before but I think I need to buy more as I really would like to be able to have the courage to make pattern mods which EZ really encourages.
And, of course, then there's the distraction that is the mighty Ravelry!
When I'm not swapping yarns or posting on the forums, I'm looking at so many beautiful projects that I lose track of time and the knitting lies beside me looking forlorn. Last night was worse than usual! I'd read that the
Ravelry shop
was about to open and I wasn't going to miss out!!
Fast forward 3 hours and many thousands of F5 presses later....I was lucky enough to get in quickly as one of 5 test shoppers to try out the checkout process before the shop went live!! I was SO excited as I managed to order one of the very few Tote bags in stock, a Ravelry pin and a T-shirt! I then spent the next two hours worrying that I'd missed out due to a hiccough in the checkout but it appears that all is well and my goodies are on their way!! Woo Hoo!!
So no, not a lot of knitting has been done....but there has been lots of stash enhancement going on! It's hard to say which of these two activities I enjoy most - what about you?