Happy Blogiversary Woolly Tales!
Yep, it's a whole year since I started my blog. Funnily enough, I had completely forgotten til I got a comment earlier reminding me! And rather conveniently I have spent rather a large amount of money of yarny type stuff today so at least I have an excuse!
So Jomps & I have had the last 2 days off and being the bad parents that we are, we still sent Pickle to Nursery. We just felt that we both desperately needed some adult time, just the two of us. I think the last time we had any of that was when she was just a bump.
We've got loads done round the house (funny how having a little person around generates so much more to do but eats all the time you have to do it all in!) and then had a fabulous lunch out today and a wander round the shops. It was SO nice to leave the house without the buggy, clean nappies and a drink/snack for Pickle!
Anyway, I know you want to see what I bought!
Well, the other day Interweave Knits arrived through the letterbox. It was my second edition since I subscribed and I wsa a bit disappointed with the Spring issue. However, the summer issue is fabulous. Plenty of patterns that I like and am capable of knitting.
I have been itching to start a new project so today was the day! I bought 10 balls of RYC Cashcotton 4 Ply in a pretty pale bluey turquoise to cast on the
Apres Surf Hoodie
. This is definately the most I have ever spent on a project but I just love the pattern and the yarn feels fantastic, soft yet practical. There is a lovely sheen to it and gives such a crisp stitch definition.
I am even swatching! I figure that if I'm going to spend nigh on 50 quid on yarn, the finished article better fit!
I also bought Knit Today to read over a Latte. I like it better than Simply Knitting but the patterns are pretty horrid! I won't be buying it again!
The best bit of having no buggy with us is that we could wander around the charity shops. Usually we can't fit in! So I searched for some yarn bargains but no luck. However I scored well in a new Oxfam book shop: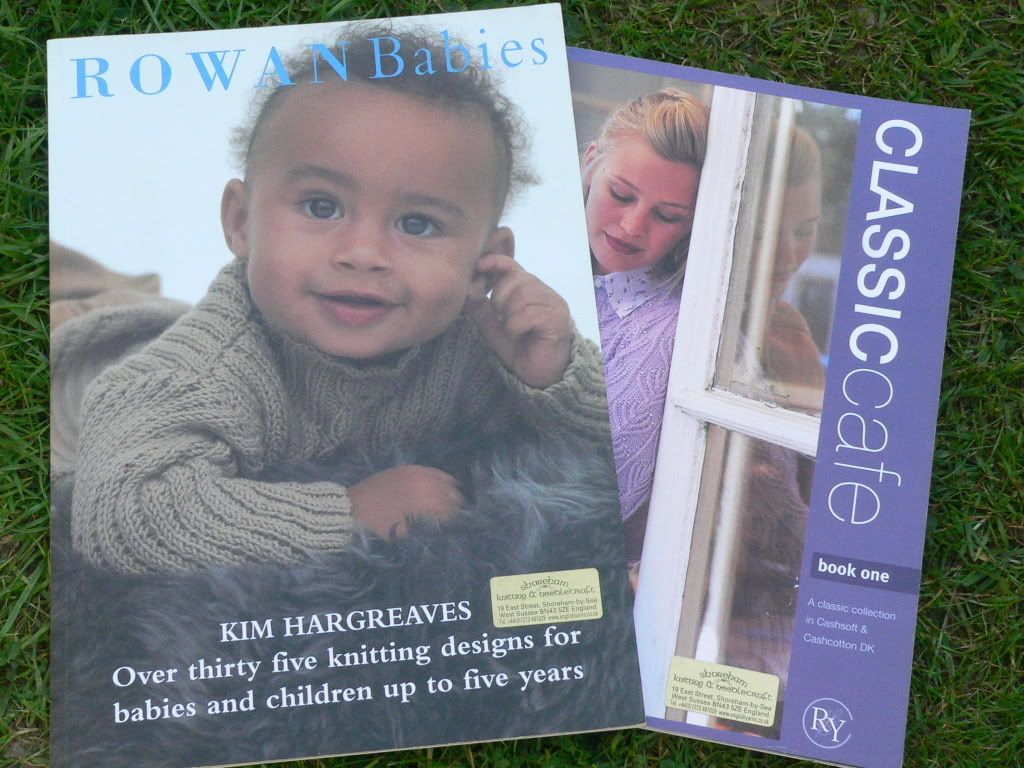 The Rowan Babies book does have some cute patterns in it and both of these are in mint condition for only £1.99 each... bargain!
I had sort of thought of running a contest for my blogiversary but I don't think I've got anything you lot might want! So you'll just have to make do with my ramblings and the promise that I will continue to bore you all senseless over the next year! Thank you for all your lovely comments and friendship over the last 12 months. xx